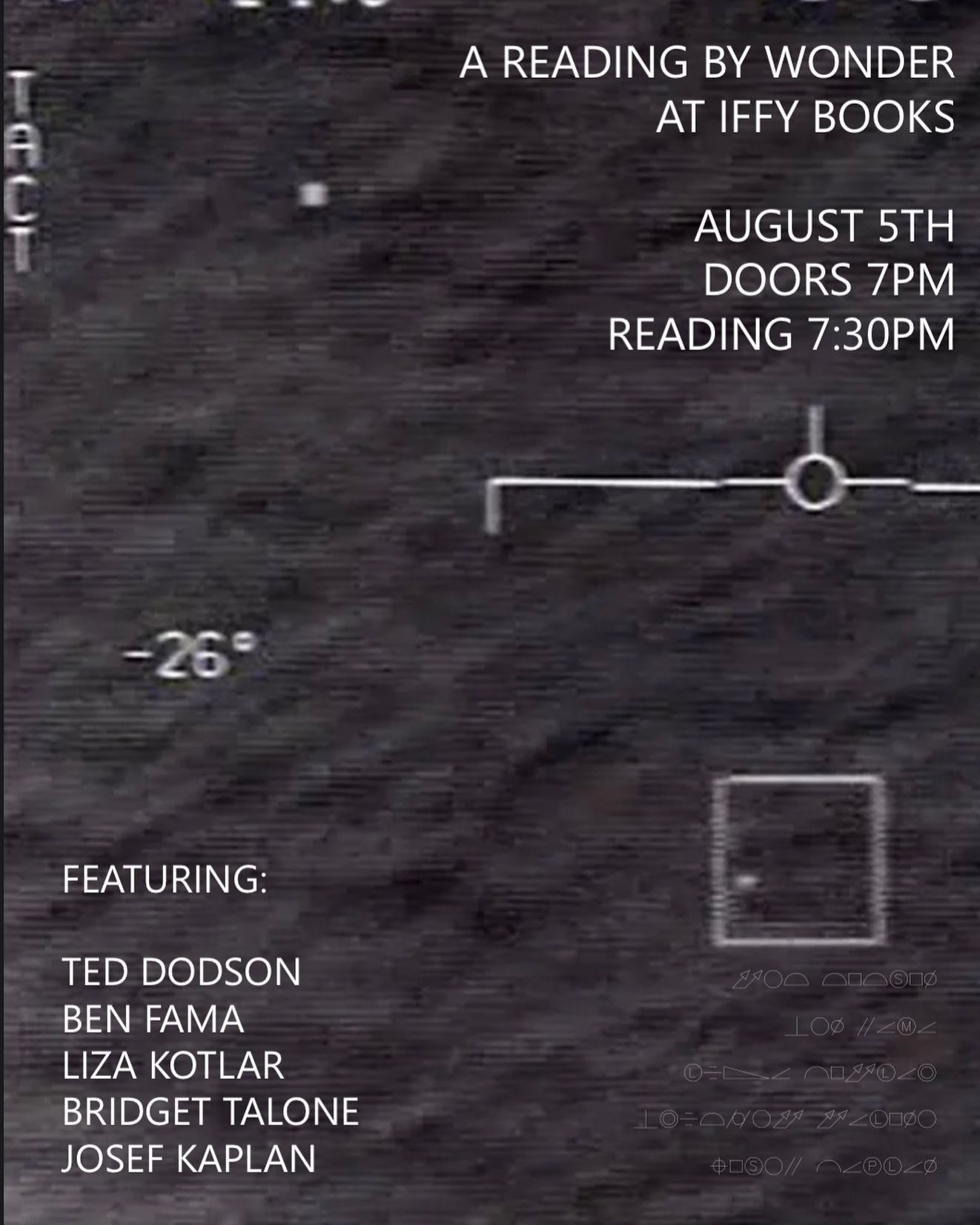 🌻 Wonder is coming to Iffy Books in Philly Aug 5, catch Ted Dodson, Liza Kotlar, Bridget Talone, Josef Kaplan and Ben Fama. There might even be a surprise laureate or two. Hope to see you there 🌻
Doors at 7:00, reading at 7:30.
Ted Dodson is the author of An Orange (Pioneer Works / Wonder, 2021) and co-translator of Death at the Very Touch / The Cold by Jaime Sáenz (Action Books, forthcoming 2025). He works for BOMB, is an editor-at-large for Futurepoem, and is a former editor of The Poetry Project Newsletter.
Ben Fama is the author of the full length poetry collections Fantasy (Ugly Duckling Presse, 2015) and Deathwish (Newest York, 2018). His debut novel If I Close My Eyes is forthcoming in fall 2023 from Sarka Press. He is the editor of Wonder Books and lives in New York City.
Liza Kotlar is the author of HAIL (Wonder 2023). Their poetry has appeared in Sarka, Denver Quarterly, & elsewhere … & is forthcoming in Fence. They live & work in New York City.
Bridget Talone is the author of The Soft Life (Wonder, 2018). She lives in Philadelphia.
Josef Kaplan is the author of Loser, recently out on Make Now Books. His other books include Poem Without Suffering; All Nightmare: Introductions, 2011-2012; Kill List; and Democracy Is Not for the People. He lives in Philadelphia.