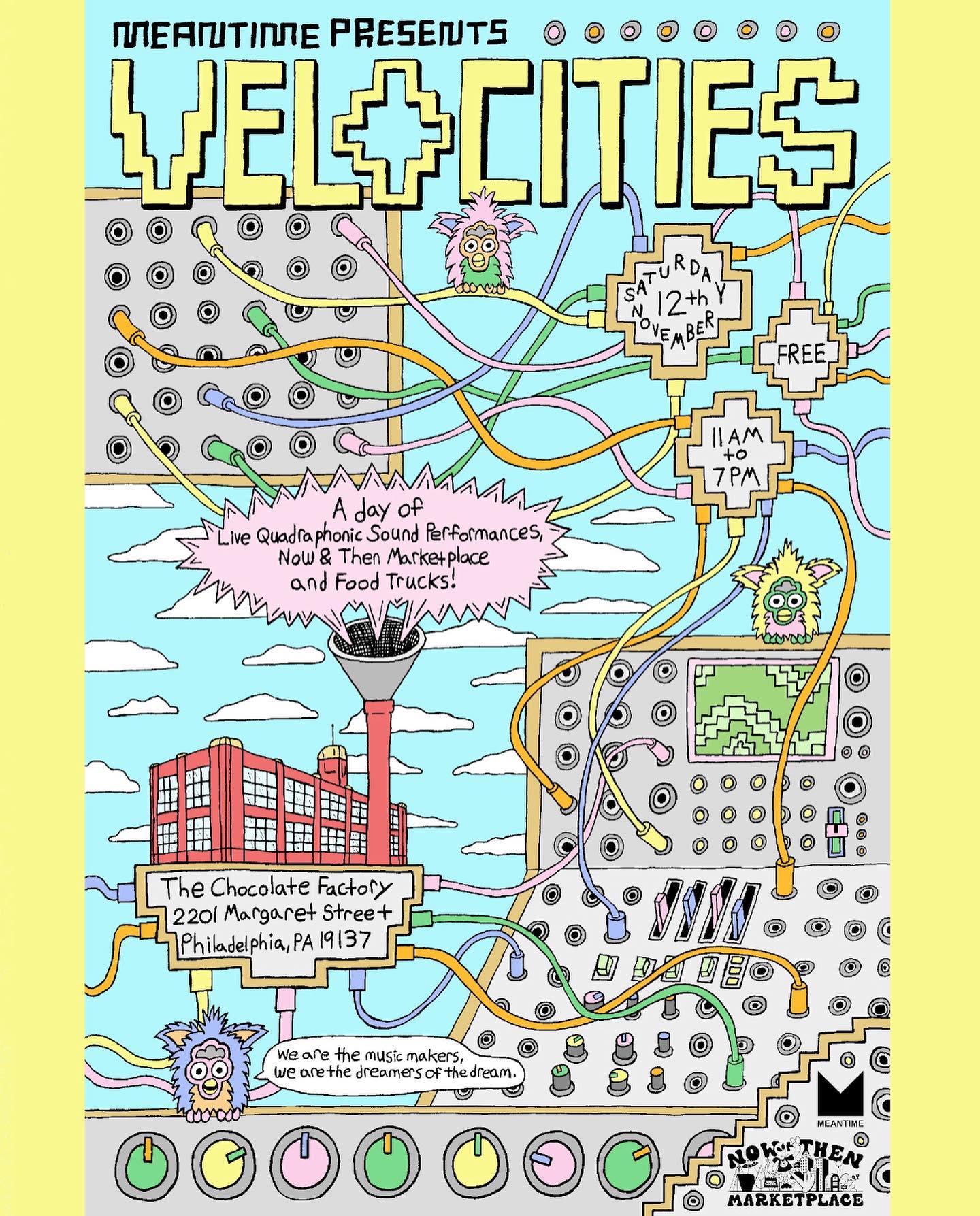 On Saturday, November 12th from noon to 2 p.m. we're running our Solar Circuit Bending Workshop at The Chocolate Factory (2201 Margaret St., PHL). It's part of a music & electronics festival called Velocities, which runs from 11 a.m. to 7 p.m. Hope to see you there!
In this workshop you'll build a tiny solar-powered musical instrument. You'll start by building a simple oscillator circuit using two NOT gates to generate a square wave. Then you'll add a push switch and a potentiometer to adjust the pitch. Beginners are welcome! Each participant will get a free kit with a breadboard and all the components.
This workshop is full!
Saturday November 12th, Meantime will host Velocities, a one time special event in the Philadelphia Blumenthal Chocolate Factory. Highlighting analog culture, the event features a vendor marketplace curated by Now+Then Marketplace, modular synth sounds by Modular on the Spot Philly, and a series of workshops and musical performances!
The event takes place on the first and second floors of the currently vacant, concrete-frame factory whose historic structure was the birthplace of the iconic SnoCaps, Goobers and Raisinets among other candies. The market section will host 40 local artists, artisans, and collectors with handmade and vintage products, including vinyl, books, art, and fashion, as well as local food and non-alcoholic beverage vendors. Attendees will be invited to adventure through a modular synth garden with Philadelphia-based musicians creating unique sounds in the reverberant space. Musical equipment manufacturers and artists will be on hand to help guests see, touch and test-drive new and vintage modular components at the synth swap meet. Workshops led by Iffy Books and Sound Museum Collective are open to the public throughout the day on site. Rounding out the evening , attendees are welcomed to a quadraphonic performance by artists including draft/ patch/ weave, Chris Powell, Tina Kalakay, and Phil Yeah.